Millennial homebuyers make up 35% of the homebuyer market. That outnumbers those of every other generation. Gen X comes in second with 26% of the market. That means that your most likely target demographic as a seller is the Millennial generation. Check out the infographic below. Learn some of the key characteristics millennials are looking for in potential homes.
Millennial Homebuyers
Millennials were born between 1980 and 2000 and range in age from 18 to 37. The median household income for millennials is $88,200. This is slightly below the market average of $88,800. Married couples are the most likely to buy a home. Followed by single women and unmarried couples. Single men are the least likely demographic to buy a home.
Millennial Homebuyer Concerns
Only 68% of millennials view their starter homes as stepping stones to their dream homes. 82% say buying a home is a priority. The generation's biggest concerns about purchasing a house are the costs of buying and maintaining a home. Also, the time it takes to take care of a home. Millennials are slower to marry than previous generations. Also, both partners often continue working after marriage. Because of this, millennials have less free time to put into cleaning and repairing their properties.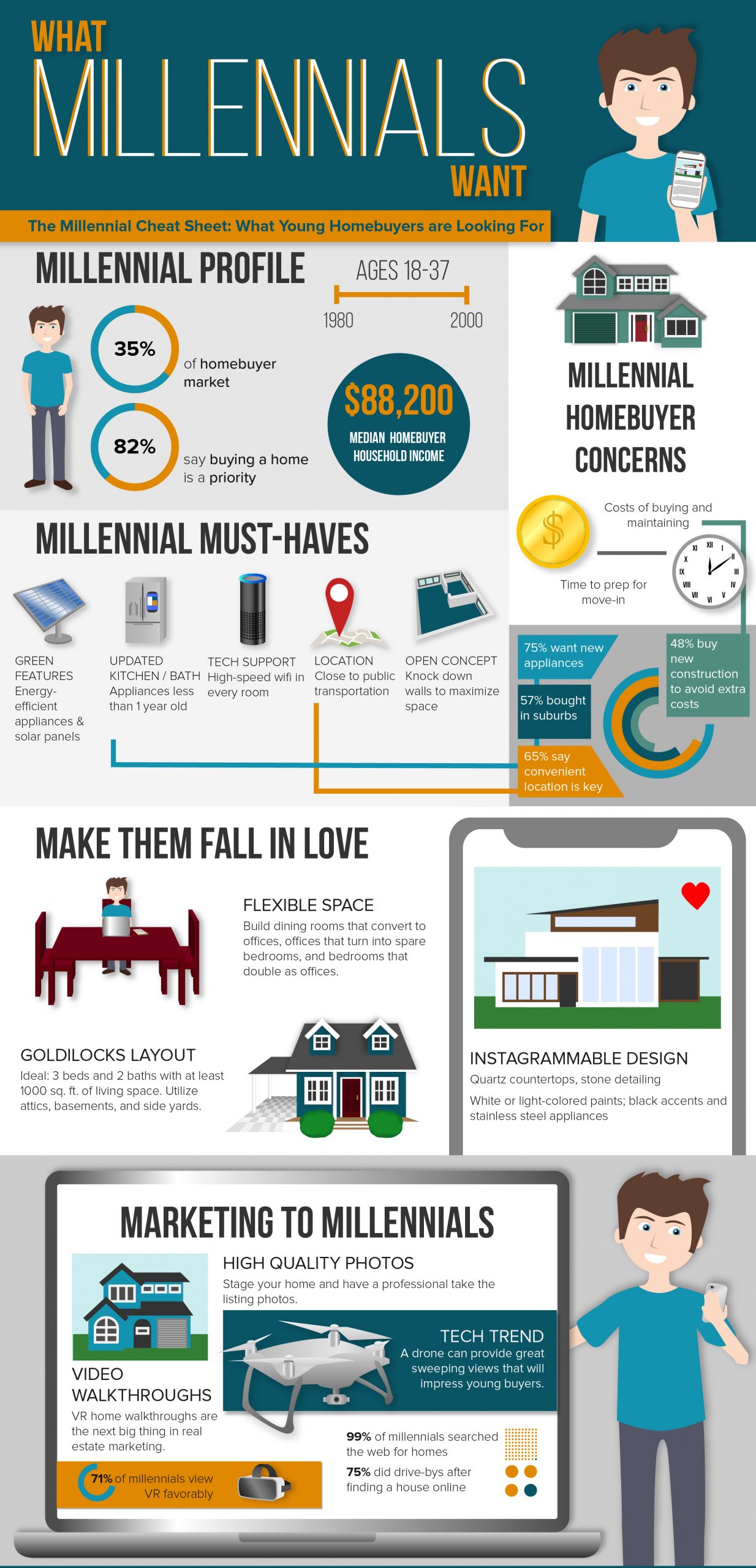 Millennial Must-Haves
Green Features
Millennials are the most educated generation. They value the economic and environmental advantages of investing in green tech. Things like certified energy-efficient appliances, LED lights, and solar panels.
Updated Kitchen and Bath
On the same token, 75% of millennials want new appliances. If your property has appliances more than a year old, you should upgrade for most appeal.
Tech Support
As smart homes become more prevalent, homebuyers are growing more conscious of a home's WiFi compatibility. Ensure that each room has high-speed WiFi and plenty of plugs to charge devices.
Good Location
Homes targeted toward millennials should be in the suburbs and close to public transportation. More than half of this generation is buying homes in the suburbs. Only 15% are purchasing in urban areas. Additionally, 65% say that a convenient location for their job is a key factor in choosing a property.
Open Concept
Young people today don't need formal dining rooms. At parties, people tend to drift from the kitchen to the living room. This makes an open floor plan the most desirable layout for entertaining. Additionally, millennials are looking for smaller homes than their parents. An open concept lessens the space wasted on walls and makes rooms feel larger.
Make Them Fall in Love
This generation is all about maximizing space. While they want the option of having dining rooms, offices, and spare bedrooms, they don't need them available at all times. Make sure your rooms can easily shift purposes. Say, an office that doubles as a spare bedroom or a dining room that converts to a workspace. Young buyers will love it.
Goldilocks Layout
Millennials' ideal home is a 3 bed, 2 baths with a minimum of 1000 sq. ft. of living space. They have lower-incomes than their parents and more student debt. Millennials can't afford the extra square footage of a McMansion, nor do they want to pay for space they don't need. Instead of building a bigger home, make sure you use all the space you have. This includes attics, basements, and side yards.
Instagrammable Design
They are growing up with sites like Pinterest and Instagram. This generation is especially adept at recognizing good design. They want high-end finishes like quartz countertops, stone detailing, and hardwood floors. Choose white or light-colored paints. Create contrast with black detailing and stainless steel appliances. Select features that are sleek, modern, and high-tech for the most "Instagrammable" home.
Real Estate Marketing to Millennial Homebuyers
For millennials, the first screening of potential homes occurs online, not at open houses. 99% searched for potential properties online. 75% did drive-bys after finding a home they liked. Stage your home and hire a professional to take your listing photos.
Video Walkthroughs
Video walkthroughs a great feature to add to your online listings. Also, VR marketing is growing in popularity; 71% of millennials view VR favorably.
Tech Trend: Drone Footage
Drones provide more effective marketing than traditional photos. With these devices, you can capture sweeping aerial views of your property. Views that show off the exterior, the neighborhood, and the landscaping.
Contact Crossland Title, Inc today with any questions!
Also, be sure to follow us on Facebook!